Status

Construction scheme (completed)

Where

To add a new junction to the M1 at Blaris, near Sprucefield and built 600 metres of new dual-carriageway to connect it to the A1

Total Length

0.6km / 0.4 miles plus new sliproads

Opened

28 September 2003

(Officially opened 13 October 2003)

Cost

£8m (privately funded)

See below

General area map
A101 on this site
A1 on this site
A1-M1 direct link proposal on this site
This scheme saw a new junction constructed about a mile west of the Sprucefield junction on the M1 providing an alternative access to the A1 and improving access to the expanding retail area at Sprucefield. The new junction is of the dumbell type with a single bridge under the motorway and a roundabout at each side. It was linked to another new roundabout on the A1 by a new dual-carriageway, the A101, which was 600 metres long (see link above and map below).
The project was funded by a private developer as part of the new Sprucefield retail park development. Essentially it was made part of the planning application. Once junction 8 was completed, all west-facing sliproads were closed at junction 7 due to their proximity to junction 8. This means that all traffic accessing the A1, Lisburn or Sprucefield from the west must use junction 8 while traffic from the east can use either junction 7 or 8.
Currently junction 8 is only linked to the south, with a park-and-ride on the north side. However there is a developer-led proposal to build a new link road north to the Knockmore Road in west Lisburn. This will make junction 8 much more useful for Lisburn residents, although also a lot busier. There is also a proposal to build an A1<->M1 flyover bypass of Sprucefield (see link above). It is not clear what will happen to junctions 7 and 8 in this scenario, but I think it would be best if junction 8 catered for all Sprucefield and Lisburn traffic and junction 7 was closed entirely.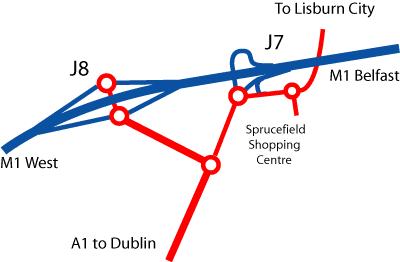 The new junction 8 in context with the existing junction 7, and the A1, as of 2005.
Criticism
The new junction has quite rightly attracted much criticism, which is discussed in more detail on the main A1 page (linked above). Suffice to say, it complicates a busy junction with 3 more roundabouts and providing more than one way to reach the same destination. The dumbell interchange type is cheap and nasty, and more awkward to use than a dual-bridge type with a single roundabout.
Photos
The completed A101 looking towards the junction 8 interchange with the M1 in February 2006. [Photo by Wesley Johnston]