Construction scheme (future)

Where

To form an inner ring road right around Belfast City Centre

Total Length

4.6km / 2.9 miles

Dates

Under continuous construction since mid-1970s.

Planned to be completed by 2018 (as of Nov 2008).
Superseded by Belfast on the Move project around 2010-12


Cost

?

See below.

Bankmore Link on this site
The Belfast Inner Ring Road, also known as the City Centre Ring and the Belfast Inner Box, is being designed to enhance the city centre by redirecting traffic away from the core city streets. It will, when completed, provide a complete two-way orbital route around the city centre featuring 2 lanes in each direction with right-turn lanes to minimise interruption to journey times. Traffic will therefore be encouraged to "orbit" around the city centre rather than travelling though it. Note however that Belfast City Council have in the past been opposed to the Inner Ring Road (see here).
Although planned and technically under construction since at least the 1970s, the Inner Ring has been very slow to be built with only short sections like Dunbar Link and Carrick Hill being completed. However it has been included in the 2005 Belfast Metropolitan Area Plan which means that it looks likely to be completed by 2015. The BMAP comments that the existing nature of the road is "disjointed and often expansive" and commits to making it look more "appropriate to the streetscape of a central urban area and does not form a barrier". This probably means making it appear thinner and encouraging more frontal development, even if those buildings do not actually open out onto the road itself.
Almost all of the Inner Ring road will be constructed by converting, and in some cases widening, existing streets, many of which are currently one-way streets. Beginning on Carrick Hill the road will run north and then turn east onto Frederick Street past the Interpoint Centre. It will then cross onto Dunbar Link and head south, swinging east briefly to pass Custom House Square and head south along Oxford Street past the Waterfront Hall. It will then pass onto East Bridge Street, turn west and go along Cromac Street. It will then turn right onto a new road, currently called the Bankmore Link (see link above), which will link it to Bruce Street near the Europa Hotel. It will then turn north over Boyne Bridge, pass straight across Grosvenor Road and along Durham Street as far as Christ Church, where it will turn east along College Square North and finally join Millfield. See the map below.
Other roads, in particular Great Victoria Street and Victoria Street, will revert to two-way traffic flows and see significant reductions in traffic levels. This is intended to assist the commerical life of these areas and make them more attractive to pedestrians. Other roads, such as College Square North, Durham Street and Cromac Street will require widening. Some elements of the plan, especially the College Square North -> Millfield connection, seem very awkward with right-angle bends that will inevitably disrupt the flow of traffic, but on the whole the scheme seems good as it will require very little demolition and thus bring benefits with relatively little upheaval and cost.

Map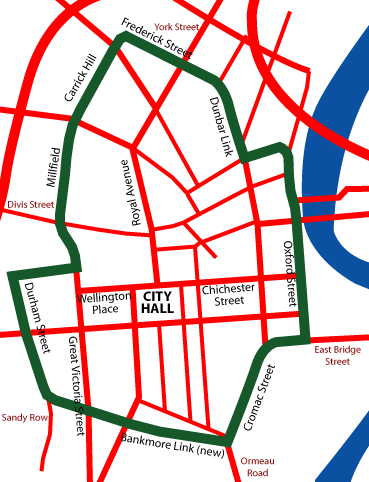 Map showing the route of the proposed Belfast Inner Ring Road. [Map based on Google Earth imagery, drawn by Wesley Johnston]
Updates
26 Jun 2012: In the four years since I created this page, the Department for Regional Development has brought forward the Belfast on the Move proposals which aim to give a greater role to public transport, cyclists and pedestrians in the City Centre. This has led to a re-think about the role of the Inner Ring Road, which it seems will now not be developed in the conventional way envisaged on this page. Instead, it looks if the existing Inner Ring Road will be modified in three phases:

The Inner Ring to the west of City Hall implemented in a slightly different way, as a combination of one-way and two-way roads. This was implemented during 2012 and 2013 as part of the Sustainable Transport Enabling Measures.
The missing southern section, previously planned as Bankmore Link, will now more likely be implemented on existing city streets as part of a separate scheme.
The northern half of the Inner Ring will be reduced in scale, although will still serve the same purpose as part of another separate scheme.
Since it now appears unlikely that the Inner Ring will be built as envisaged on this page, this page has now been moved down into "Cancelled Schemes".

9 Jan 2009: Roads Service issued a leaflet about this proposal in November 2008. The leaflet reaffirms its committment to this scheme and sets out its reasons for wanting to develop the City Centre Ring Road. These reasons are very much to do with sustainable transportation:
to support the objectives of reducing traffic in the city centre
giving greater priority to more sustainable modes of transport such as walking, cycling and using public transport.
to significantly reduce traffic levels in the core of the city centre so that public transport priority, including rapid transit, can be maximised.
Roads Service currently envisage the scheme being implemented "within ten years". The leaflet also mentions the Bankmore Link road, which would be needed as part of this scheme, and which has its own page.