Construction scheme (completed)

Where

Grade separation of this busy staggered crossroads on the A1

Total Length

1km / 0.6 miles

Dates

Work began 28 Jan 2003

Completion due summer 2004
Opened to traffic 16 Feb 2004 (according to DRD)


Officially opened 4 March 2004 (ahead of schedule)

Cost

£4.9m

See below

General area map - (orange road)

A1 on this site

A1 grade separated junction Hillsborough Road, Dromore on this site
This scheme sees the full-grade separation of the B10 Rathfriland Road in Banbridge where it crosses the busy A1. This junction has been the scene of several serious accidents due to the number of vehicles attempting to turn right across the dual-carriageway. The junction had been a staggered cross-roads but through the construction of a double-span bridge and realignment of the B10, it is now much safer with sliproads onto the A1. The new road also includes a bridge over the minor Bannview Road. In total, 1km of new roads were laid.
This scheme was the first grade-separated junction to be built on the A1, and was followed a year later by the grade separation of the Hillsborough Road. It was also notable for having been completed ahead of schedule by the contractor McLaughlin and Harvey.
Photos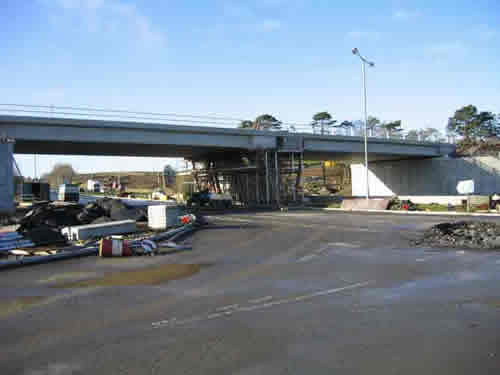 The main bridge over the A1 under construction circa late 2003 or early 2004. [Picture from Roads Service web site http://www.roadsni.gov.uk/scheme/Banbridge/index.htm]