"We are facing an enormous task requiring meticulous examination of literally tons of rubble. This additional help represents a very significant increase in our ability to extract as quickly as humanly possible every last piece of evidence in what is a very complex jigsaw". These were the words of Chief Superintendent Eric Anderson when announcing the largest murder investigation ever in Northern Ireland in which specialists were called in from London's Metropolitan Police to assist the RUC.

Almost immediately the RUC announced their suspicion that the 'Real' IRA were behind the attack. When asked why, Chief Constable, Ronnie Flanaghan said "...That's our believe at this point in time, it falls into line with other atrocities that these people have attempted. Thankfully through the good work of our colleagues in the Garda Siochana [police in the Irish Republic], and through the good work of my officers and our military colleagues we have thwarted their intentions largely down through recent weeks". A number of similar bombs had been intercepted near the border in the preceding months. Sure enough, the 'Real' IRA admitted responsibility a few days after the bomb.

The 'Real' IRA also denied that they had intended to take life. However, the police believe that this was not true. When asked about this belief, Ronnie Flanaghan said "I can come to no other conclusion in that this was absolutely deliberate, we've had success in the past either through intercepting these vehicles before they arrive at their intended destination, or reaching them very soon after they have arrived so that we've been able to disrupt them, and I have no doubt that these people decided to give deliberately vague and misleading warnings to prevent us disrupting the explosive devices. I can come to no conclusion other than that these people intended the bloody murder that resulted from their actions". (Transcripts of the warnings are given here.)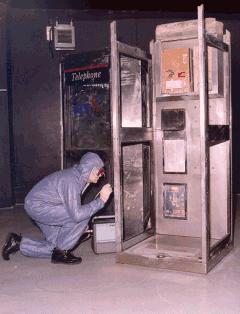 Taking many days to sift through the 8 tons of rubble on Market Street, the police forensic experts were able to extract much useful information. They were able to discover that the detonator had been housed in a child's lunch box, and even managed to determine the brand of lunch box (Addis). They were able to determine that the explosion was triggered by a Coupatan mechanical timer. This timer has been used in other 'Real' IRA attacks. The two telephone kiosks, from separate locations in south Armagh, that had been used to phone the warnings were sealed off and then removed by helicopter for forensic analysis. The photograph on the left shows them being analysed by members of the RUC forensic team.
Over the next few months, the police repeatedly asked for public assistance in their investigation. A poster was displayed that was headed simply "MURDER". They discovered that the car containing the bomb, that had been stolen in county Monaghan, had been seen in Crossmaglen and in Cullaville, both in south Armagh, immediately before arriving in Omagh. It was probably packed with explosive at one of these locations. In November, the Supt Anderson said "We have a full team continually working on this investigation. We have been working in close co-operation with a number of other police forces. We are pursuing a number of inquiries and it is likely that more arrests will follow but we still need help from the public."
Both in the Republic of Ireland and the United Kingdom, the government passed new legislation - described as "draconian" - to make it easier to arrest those suspected of carrying out acts of terrorism. These included a new offence of "directing terrorism" and of "having information likely to be of use to terrorists".
After a few months, the police announced that they were satisfied that they knew the identity of those who had carried out the attack. Their names are widely known in Northern Ireland, but can't be published to avoid libel. One of them possibly lives in Omagh. The police have been unable to unearth enough evidence to guarantee a conviction. Due to the "double jeopardy" law (by which a person can only be tried for a specific crime once) they want to wait until they have enough evidence before pushing for a trial. The situation was not helped when Sinn Fein refused a request from the father of James Barker (a 12 year old boy from Buncrana, county Donegal who was killed in the bomb) to urge people to come forward with information to the RUC/Gardai. Nonetheless, the fact that nobody has yet been brought to justice for the bomb (time of writing, June 2000) is undoubtedly making the recovery harder for the bereaved.
The police investigation is ongoing. Anybody who has information regarding the bomb, no matter how minor it may seem, is urged to contact either the RUC or the Gardai to help bring the perpetrators to justice.
See also: Appendix of police press statements