Status

Construction scheme (part completed)
Developer - Fraser Homes NI Ltd


Where

To connect the M2 at j4 (Sandyknowes) to the Upper Hightown Road

Total Length

1.25 km / 0.78 miles

Dates

Scheme announced by private developer - Early 2002

Northern 0.86 km completed - Feb 2003
Formally proposed in Belfast Metropolitan Transport Plan - Nov 2004

Remains unfinished as of Nov 2011 - no current plans to complete


Cost

£0.7m (2005 estimate) - part-funded by private developers.

See below
North Belfast is connected to Glengormley (part of Newtownabbey) by the M2. However, there is another, much older, road link which goes over the Belfast Hills via Crumlin Road and Upper Hightown Road. Upper Hightown Road has been significantly improved over the past 20 years to the point that it is now (somewhat optimistically) the signposted route from the Westlink to Glengormley. Roads Service seem keen to promote this route in order to reduce traffic levels on the M2. The problem is that this road ends in the centre of Glengormley village, an unsatisfactory arrangement that negates any advantages the route might have for commuters. This map shows the route drivers must take in red:
The Belfast Metropolitan Transport Plan (BMTP) of 2004 contained a proposal to construct a link road connecting the Upper Hightown Road directly to the M2 at Sandyknowes roundabout. This link is shown in green on the map above. The BMTP stated that this road would be developer-led, ie private developers would have to build it in order to obtain planning permission. The road would be primarily designed to serve the developments in the area, but would also help longer-distance traffic.

Sure enough, at the point the BMTP was published, permission had already been given for the Mayfield Garden Village and the developer had already built the northern 70% of the road (completed in February 2003) marked in light green on the map and linking to Sandyknowes roundabout. The developer did not, however, build the southern 30% which links it to Hightown Road and it has therefore ended at a temporary fence now for almost a decade. Additionally, the 70% that has been built has still not been formally adopted by Roads Service as of October 2011, and thus technically remains a private road.

It's not entirely clear why the road has not been finished - it may be to do with land acquisition (there is a covered reservoir nearby), or it may simply be that the developer is not required to complete it. Either way, it seems a shame that the road is so close to completion, yet is not linked up. In the meantime, drivers can still connect from Upper Hightown Road to the Mayfield Link Road by rat-running through Mayfield Garden Village.

Photos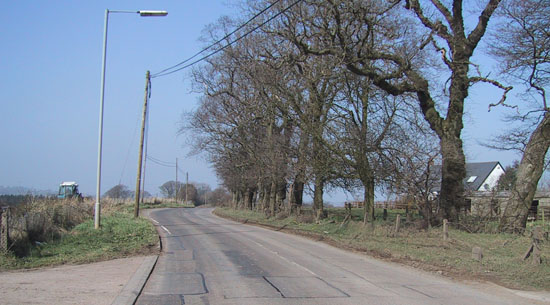 View north-west from close to the end of Upper Hightown Road. The completed
road will curve through the trees to the right. 29 Mar 2002 [Wesley Johnston]


View south from Scullions Road / Mallusk Road junction on 13 Apr 2002. The new Mayfield Link Road now continues straight on here, where the fence was in this image. [Wesley Johnston]


The completed part of Mayfield Link Road, here seen on 22 Feb 2003
looking north just after opening. [Wesley Johnston]


The abrupt southern terminus of the Mayfield Link Road,
as seen on 9 Mar 2003. [Wesley Johnston]