| | |
| --- | --- |
| Where | The main road connecting Warrenpoint town to the city of Newry |
| Total Length | 7.7km / 4.8 miles |
| Opened | Mid 1970s |
| Cost | ? |
| | See below. |
| | |
It is something of a puzzle that Warrenpoint, a fairly small town, boasts a full dual-carriageway to connect it to Newry when there are many much larger towns in Northern Ireland that would love to have an access road of this standard.
The answer lies in the fact that in the 1960s it was planned that Warrenpoint would be the main port for Northern Ireland. The road replaced a fairly narrow and unsafe single-carriageway road, parts of which are still in existence. However, instead the Port of Belfast and Port of Larne have emerged as the most dominant. This 1970s road looks somewhat out of place and the fact that it is connected to single-lane roads at both ends negates most of the speed advantages it offers.
With thanks to Brian of Old Warrenpoint (www.oldwarrenpoint.co.uk) for information on this page.
Photos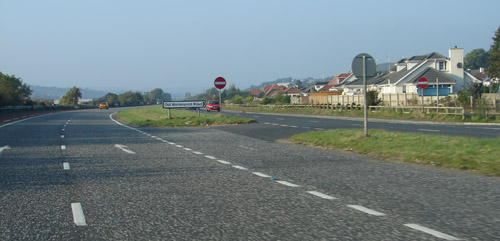 The A2 between Warrenpoint and Newry, heading north west. [Photo by Colin Dalton]
Near the terminus of the A2 at the Newry end. [Photo by Colin Dalton]